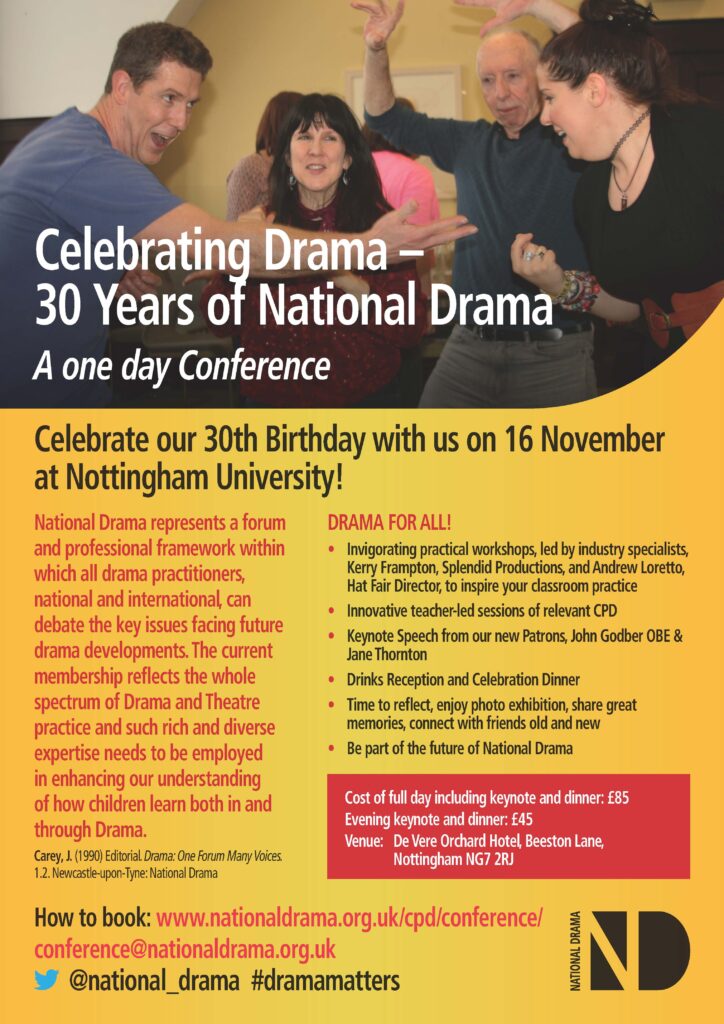 Kerry Frampton – Splendid Productions
Splendid Productions is a theatre company and an education company. They create challenging, vibrant theatre for young people, and provide expert training in all areas of drama from Practitioner theory to Presentation skills.
Since beginning in 2003, they have gained an excellent reputation for both the inventiveness of their performances and the clarity of their teaching. They are a small company and their priority is providing consistent, high-quality work for a growing band of regular clients.
Andrew Loretto
Saturday 16th November 2019
Subject to some change as delegate numbers are established. This is NOT a final copy.
9:00 – 9:45: Registration
10am – 12:30pm: Workshops (Kerry Frampton – Splendid Productions / Andrew Loretto – Hat Fair Director)
12:30pm – 1:15pm: Workshops led by ND members
1:15pm – 2:15pm: Lunch
2:15pm – 4:45pm: Workshops led by ND members / Games Share
4:45pm – 5:45pm: Panel Discussion chaired by Aine Lark
6:15pm – 7:00pm: Drinks Reception and Awards
7:00pm til late: Dinner and Keynote (after-dinner speech from John Godber OBE)
The University of Nottingham is a public research university, founded in 1881 and granted a royal charter in 1948. University Park Campus, located two miles from Nottingham City Centre, is set within 330 acres of rolling landscaped parkland. With a mix of stunning architecture, traditional features and modern facilities, this campus is the perfect venue for our birthday event. It is also where our inaugural conference took place 30 years ago.
We will be holding our Conference in the De Vere Orchard Hotel site.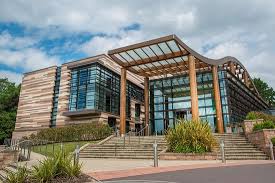 As this is a single day conference no residential accommodation is required.
However, if you would like to stay at the De Vere Orchard, call them directly and ask for National Drama rates for Friday and Saturday. If you visit https://www.devere.co.uk/orchard/ and sign up for 'Applause', you may get a better rate.
There is also a Travelodge at nearby Wollaton Park.
If you are a Drama/Theatre related commercial company we would like to invite you to take up one of our special conference promotional packages below.
Understudy – £50
This package offers you the opportunity to insert your advertising materials directly into the conference packs of delegates.
Named Character – £100
Advertising materials in the conference packs and an unrepresented display stand.
Starring Role – £300
This package offers the opportunity to have your representative and display stand at the event, to insert your materials into the conference packs, and an invitation to the Celebration Dinner and evening event.
Your own dressing room – £500
Sponsor the Conference and enjoy all the perks of the 'Starring Role', with Dinner Invitation for 2 guests, individual National Drama membership for a year and an advert in one edition of National Drama's magazine Drama.
If you would like to take advantage of any of these opportunities to promote your goods or services, please email: conference@nationaldrama.org.uk