NATIONAL DRAMA
The UK's leading professional subject association for drama teachers and theatre educators
National Drama is dedicated to ensuring that all  young people have the opportunity to learn about and through drama. Our mission is the development, promotion and support of Drama and Theatre both in the UK and Internationally. We are an open and inclusive organisation – One Forum: Many Voices – and we positively welcome as members all those who are interested in drama and theatre in learning contexts whether in the UK or beyond.
The Drama and Theatre Education Curriculum: relevant; representative; inclusive.
The nature of the current educational context, in which we all find ourselves, is not simply the consequence of the Pandemic. It is also the result of a long legacy of reductionist policies that have seen our practice, theory and art marginalised.
ND intends to provide the membership with clear guidance concerning the learning potential of drama and theatre experiences for all children and young people.
There have been few supportive documents in recent years that have enabled teachers, in those schools where the subject is 'under threat', to make their case for the subject's sustainable identity. ND will address this 'gap' and provide members with supportive position papers that articulate a coherent rationale for drama as a core subject.
The Executive intend to create a series of draft papers that are relevant to primary, secondary, teacher education, special educational needs and age-appropriate professional theatre experiences. These papers can be used as aids in professional conversations between teachers and curriculum policy-makers.
We celebrate the fact that we have many members who have the insight, experience, expertise and enthusiasm to contribute to our collective vision.
If you would like to be involved in this work, please send expressions of interest to:
chair@nationaldrama.org.uk or executive@nationaldrama.org.uk
This will be an exciting journey that could result in support for everyone who works in drama and theatre education.
Geoff Readman
Drama is National Drama's magazine of professional practice, ISSN 0967-4454. Published twice a year, this hard copy, print publication contains a wealth of features and articles for and by drama teachers and theatre educators in many contexts within the UK and overseas. Content focuses on practical teaching experiences and projects drawn from across educational contexts and includes classroom materials, schemes of work, interviews and reviews of books and other resources.
You can subscribe to Drama magazine and receive hard copies twice yearly, but if you become a full member you can also access Drama Research, our International Journal of Drama in Education, and  receive discounts on our CPD events.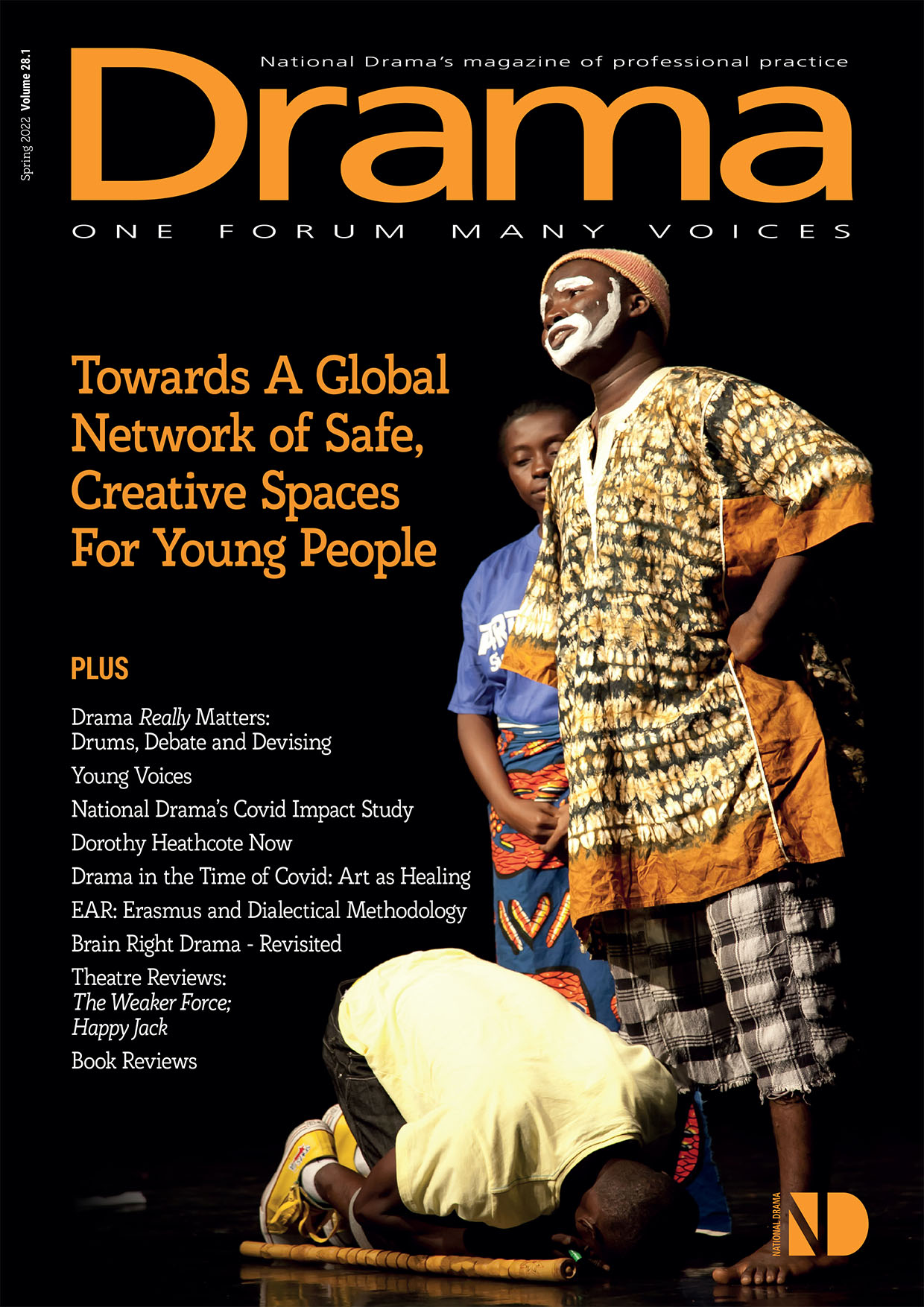 In this issue:
Towards A Global Network of Safe, Creative Spaces For Young People
Drama Really Matters: Drums, Debate and Devising
Young Voices
National Drama's Covid Impact Study
Dorothy Heathcote Now
Drama in the Time of Covid: Art as Healing
EAR: Erasmus and Dialectical Methodology
Brain Right Drama - Revisited
Theatre Reviews: The Weaker Force; Happy Jack
Book Reviews

Drama Research
International Journal of Drama in Education
An innovative international refereed  e journal that provides a forum for practitioners and researchers across the spectrum of drama in educational settings. We encourage, gather and publish research-based articles from established and new writers to promote knowledge, understanding and dialogue about drama in learning contexts.
By subscribing to Drama Research you will have immediate access to the current issue, and after the first year you will be able to access the entire archive. However if you join National Drama as a full member you will have immediate access to the latest issue and the entire archive, as well as free copies of Drama Magazine  and discounts on CPD events.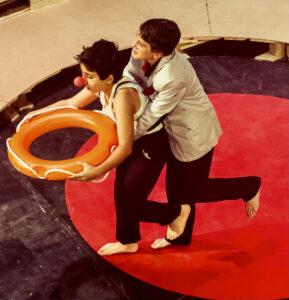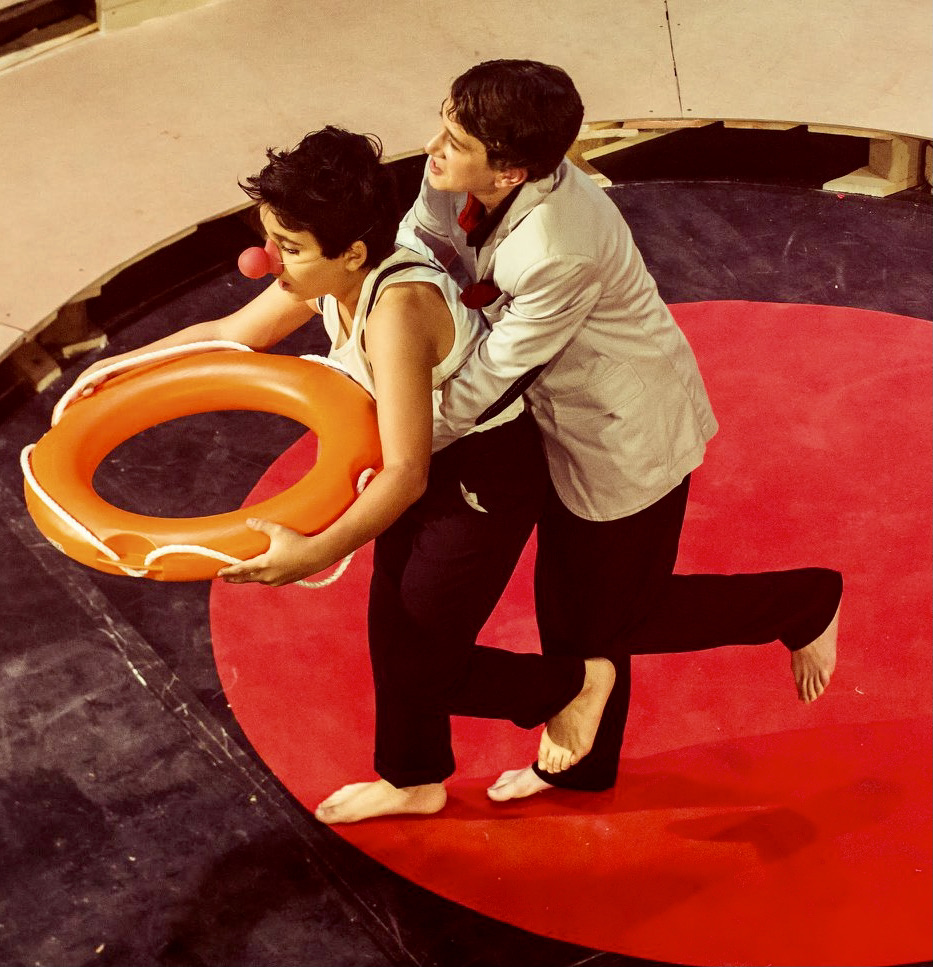 First of all, let me welcome you to the new look Drama Research. National Drama, the professional association for teachers of Drama and Theatre, has invested in a brand new website and Drama Research has benefitted from this upgrade. We have attempted to make the journal as accessible and approachable as possible and so we have taken this opportunity to give it a complete re-design. Technically speaking, it is now organised on a Posts format, that is, continuous texts, rather than the Pages format on the old website, where different chapters were arranged on separate pages. This means there are far fewer clicks to negotiate the content and allows the reader a smoother, uninterrupted read. We do hope you like it!
Create to Learn: an Experimentation of Drama Pedagogy in the Ghanaian Classroom
Ethics and Research-Based Theatre: Reflections from Two Practitioners
Intergenerational Collaborative Digital Applied Theatre Practice: Empathy and Connection in a time of Social Isolation for NHS Patients undergoing Dialysis and Secondary School Students in North London
Of Valets or Clowns? the adaptation process of Molière's Don Juan for Young People
The Art of Wellbeing through Drama & Theatre Education
The Role of Register: Register Theory and its Consideration in Theatrical Performance