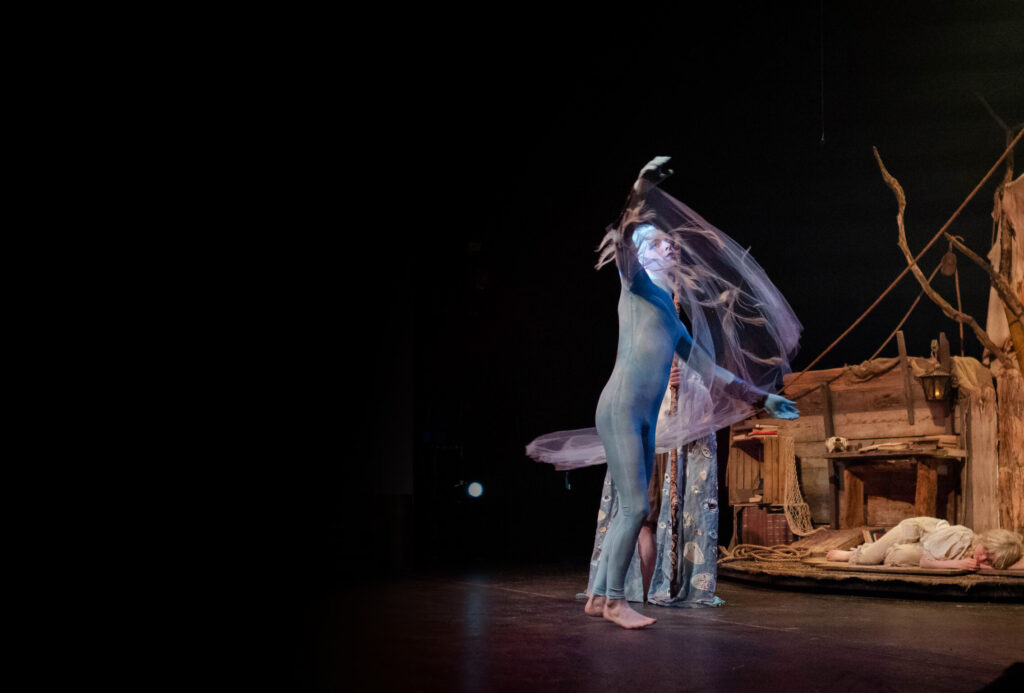 Dear National Drama friends and members,
We would love you to send this letter to your MP. We think better Drama in schools is always an excellent idea but especially now. There are two asks!
We believe that Drama lessons can help learners explore their emotions, express themselves and make sense of the transitions they have been through. I hope you agree that high quality Drama lessons, even socially distanced, by their collaborative, dynamic, expressive nature, could support emotional and mental health and well-being post lockdown, and help rebuild student confidence and engagement. Send this letter to support Drama lessons for all learners after lockdown to support achievement and recovery.
Do you think Drama ITT students should also get a bursary so we can get specialist talent in schools to teach?
We do. All Drama trainees deserve a bursary. Let's get diverse excellence in schools by ensuring great Drama graduates are not put off by a lack of bursary!
You can send it as it is or personalise it as suggested – whatever you have time to do. But please do send it and even better, share it!
You can copy the following letter by clicking the 'copy' button, and then pasting into an email to your local MP who you can find here: https://members.parliament.uk/FindYourMP
You can also share this post by using the share buttons above.
Date:

Dear ____________________________________

Excellent Learning after Lockdown: Drama in Education

Post lockdown, education matters. I want you to champion Drama teachers, and Drama in schools, to support learners to successfully re-engage in learning. There will be problems returning to a new normal after lockdown, in schools and in society. Drama teachers are uniquely placed to support learners with growth, socialisation, well-being, and emotional development. Drama and the arts can help schools find creative, exciting, safe ways to explore uncertainty and build confidence. In the future, with your help, Drama and arts education can once again be excellent in all British schools.

I, with National Drama, am passionate about Drama as a truly transformational education experience. It is creative and knowledge-rich, yet wholly accessible. We know that Drama lessons support young people's ability to explain, explore and understand the changing world around them. This space for structured self-expression supports cognitive development and mental health. Our cultural industry, full of makers, stage designers, film producers and theatres are world class. Learners with Drama accomplishments can enjoy applying their advanced range of skills creatively, but also in fields like education, law, social work, business, and leadership

Alongside my teaching peers, I ask you, and our parliamentary representatives, to work for our post lockdown curriculum to support excellent learning and therefore be arts–rich. We know the last decade has seen a reduction in high quality Drama education and arts across the board*. This is a unique opportunity to improve and support learners.

I draw your attention specifically to these two asks:

1) Petition for Drama Initial Trainee Teachers to get a bursary – currently they get nothing. For talented trainee teachers from less advantaged backgrounds this has been particularly difficult: a stark piece of injustice as peers in History, (£9,000) English (£12,000) and Computing (£28,000) doing the same course with the same assessment demands receive financial support. Let's get talent back in schools to teach.

2) Talk about Drama lessons and why we need them to be compulsory for all learners. Drama lessons provide opportunities for children to be emotionally literate and confident. They are more informed about their worlds, making them independent learners, better citizens, employees and future employers. Drama lessons help develop invaluable work skills, like communication, literacy, collaboration, community building, listening, critical and creative thinking and empathy.

Please campaign with us, your constituents, to champion Drama and the arts for all learners for excellent education post–lockdown in our schools.

Support National Drama as the UK's leading professional subject association advocating Drama for learning and high quality training.

Thank you,

Yours sincerely,

Name: ____________________________________

Signature: ___________________________________

*Cultural Learning Alliance https://culturallearningalliance.org.uk/further-drop-in-arts-gcse-and-a-level-entries-for-2019/

Additional Information
We know that personalised letters can be more effective – please feel free to adapt the letter, write your own, and use any of this information if it helps to petition for Drama in schools to be part of schools' recovery strategy. Every voice counts.
This might be useful. The Drama and Young People Manifesto brings the vision of the education and the cultural industries together. dramatheatremanifesto.co.uk/
Essential Drama, Phil Cleaves' excellent website has strong promotional material as well as generous resources. https://essentialdrama.com/promoting-arts/
The CLA has excellent reports and articles on the benefits of the arts and Drama. These pages are wonderful: culturallearningalliance.org.uk/evidence/
We also highlight the potential of improving knowledge and vocabulary through drama activities and seek to reinstate drama more formally in early years settings, continuing through to KS3 as an important aspect of a broad, balanced and ambitious curriculum. This is a critical time to re-engage our learners, and drama teachers will play a vital role in providing meaningful opportunities in creative and safe spaces.
Reasons For the Decline in Drama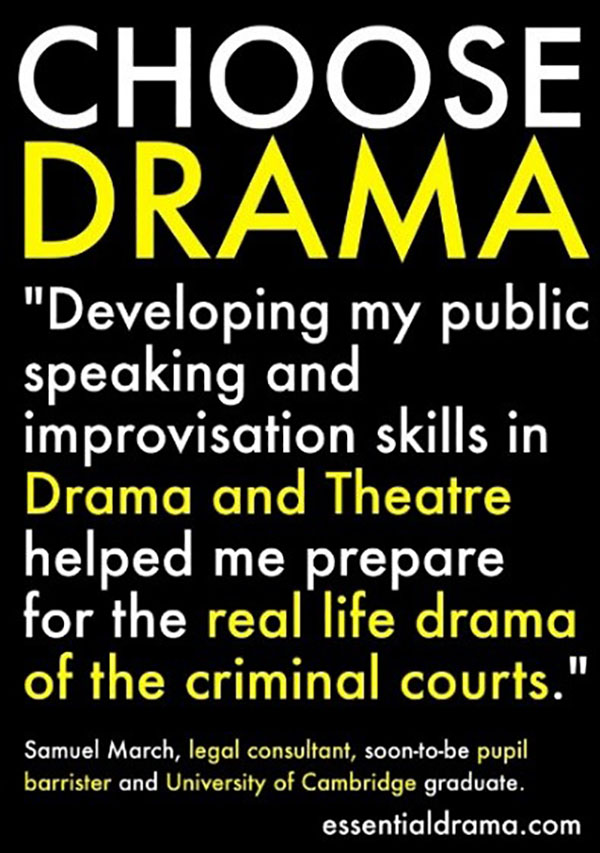 Part of the structural way that Drama education is undermined is its omission from the National Curriculum; another is the impact of the Ebacc, with misleading implications that Drama is a low-value subject, with little economic or academic worth, and another is structural erosion in schools and academies. Drama is an equal member of the fellowship of creative arts subjects – seen more than ever as companies from Kneehigh to Theatre Centre support us all with an incredible range of free online content.
We know that in the last ten years the numbers of children taking Drama GCSE has fallen by 29%.
Drama A Level uptake has fallen by 39%.
All Arts subjects have 'lost out' in the last decade, comprehensively explained in Rebecca Johnes's 2017 study *2
Teacher numbers and hours have fallen too. *3
Out of school, according to Taking Part data, *4 most children enjoy enrichment. Sadly, Drama and Theatre engagement is decreasing, as according to the Government report, they are more school dependent. By removing curriculum drama this government is reducing the opportunities of all learners, including disadvantaged pupils and parents to gain social and cultural capital. Without Drama teachers to offer free after school clubs, rehearsals and trips, all state school learners lose out. How many learners have their first (or only) experience of live performance at great British theatres with their Drama teachers? Equitable drama in school curriculums will mean more Drama teachers able to offer more youngsters extra-curricular opportunities.
Without excellent arts education, learner ability to access, engage with and be part of our cultural heritage and explore our communities, experiences, difference, human narratives and identity diminishes as high stakes exam attainment in a narrow suite of subjects takes precedence.
We know that data on these areas is not collected centrally– so evidence on what is actually happening and therefore, how to improve it, could be stronger. Government could collect data on: –
How many state secondary schools offer all KS3 learners' equitable access to Drama as one of the arts, typically a lesson a week with a subject specialist*5 in years 7, 8 and 9
How many state secondary schools offer KS3 learners' partial access, with significantly less curriculum time and resources than other arts subjects
How many state secondary schools offer KS3 learners no access to Drama, other than through core English
Notes
*2Entries to Arts Subjects at KS4: Rebecca Johnes: Educational Policy Institute
*3 Cultural Learning Alliance https://culturallearningalliance.org.uk/further-drop-in-arts-gcse-and-a-level-entries-for-2019/
*4 Taking Part 18/19 https://www.gov.uk/government/statistics/taking-part-201819-annual-child-release
*5The term specialist here implies either a teacher-trained Drama graduate or equivalent e.g. Music / English teacher with significant PGCE Drama training or expertise in Theatre, Drama or Drama Education